2016 Imaginations Finalists
Walt Disney Imagineering Celebrates 25th Imaginations Design Competition
Finalists announced
Six college teams travel to Imagineering in Glendale, CA to participate January 25 – 29, 2016
January 04, 2016 | Glendale, CA – For the 2016 Walt Disney Imagineering Imaginations Design Competition, finalists have designed traveling experiences for which audiences can follow Mickey and a team of inventors as they test their magical creations; embark on an adventure to enliven a black and white world; go to camp with the beloved DuckTales crew; interact with Disney environments from "Finding Nemo," "The Lion King," "Frozen," and "Toy Story"; take a trip through Mickey's Magic Garden; and learn what it means to be a Scarer at Monsters University.
These are the creations of the top six teams representing 20 students from eight universities including California State University, Fullerton; Columbu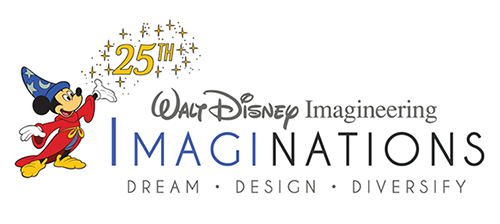 s College of Art and Design; North Carolina State University; Ohio State University; Ohio University; The University of Texas at Austin; University of Florida; and University of Washington. The finalist teams were selected by Walt Disney Imagineering, the design and development arm of Walt Disney Parks and Resorts.
Imaginations is celebrating its 25th year and is one of the creative and unique ways that Imagineering uses to search for the next generation of talented theme park designers. Started in 1991 by Disney Legend and Imagineering executive Marty Sklar, the design competition has since grown to include a separate version sponsored by Hong Kong Disneyland.
Each finalist team is awarded a five-day, all-expense-paid trip to Imagineering's main campus in Glendale, Calif., from January 25 to 29, where they will present their projects to Imagineering executives and take part in an awards ceremony on January 29. Finalists also have an opportunity to meet and network with Imagineers, go behind the scenes where Disney magic is created, and interview for paid internships during their visit. The top three placed teams will be awarded cash prizes, and an additional $1,000 grant will be awarded to the first place team, to be equally divided among its sponsoring universities.
For this year's competition, students from American universities and colleges were given the following challenge: Design a traveling experience that will tour small towns across the United States so families who do not have the opportunity to travel to a Disney Park can have a Park experience. This temporary venue will operate in each community for two to three days, should take no more than a day to set up and break down, and embody the kind of family entertainment that Walt envisioned when he first built Disneyland.
The concepts presented by the finalists cover a wide range of concepts and topics including:
Disney Showcase: Monster Recruitment Rally (California State University, Fullerton): In this interactive experience, guests are whisked away to the world of Disney•Pixar's Monsters, Inc. Stepping into the shoes of a new recruit, kids and families can engage in training and games designed to test the skills of new "Scarers" and learn firsthand what it means to truly be a monster.
Ducktales – Camp Quack (Ohio State University / Columbus College of Art and Design): Saluting the beloved television series taking Scrooge McDuck and his nephews on adventures across America, this unique experience combines excitement, learning, and groundbreaking technology to deliver a modern celebration of Ducktales, for both lifelong fans and those encountering the Ducks for the very first time.
Extravagizmo! Mickey's Inventor Showcase (University of Florida): Uniting the timeless magic of Disney with the excitement of progress showcased at classic world's fairs, Extravagizmo! proposes an extraordinary destination inspired by the possibility of the future. Through interactive, hands-on experiences, guests would join Mickey Mouse – and a new character created exclusively for the project – in a one-of-a-kind showcase of magic and innovation.
Hueroic (The University of Texas at Austin): Hueroic takes guests on an unforgettable journey to explore the wonder and beauty of art and imagination. Thrust into a black and white world where colors have never existed, Guests are sent on a race against time to rescue a kingdom and unlock the magic of color, light and inspiration.
Mickey's Magic Garden (Ohio University / University of Washington): A miniature, traveling theme park, bringing Disney magic to small towns across the country, this proposal would entertain families with custom designed rides, walk-thru attractions, character greeting experiences, and a wide array of themed dining opportunities.
Ostium: An Adventure Behind Every Door (North Carolina State University): Ostium is an expandable, portable experience bringing the magic of Disney to guests who may not have yet experienced a Disney theme park in person. Through interactive media and real world character greeting experiences, guests are invited to step into their favorite worlds, inspired by the magical Disney and Pixar stories of The Lion King, Frozen, Toy Story, Monsters, Inc. and Finding Nemo.
Throughout the years of this program, hundreds of students from universities all across the United States have participated in this competition and had the opportunity to present their projects to Imagineering executives. Many have gone on to secure internships or eventually become full-time Imagineers.
Imaginations opens up the opportunity for students to showcase their skills and talents to Imagineering through a hypothetical project. Provided with a project challenge, students and recent graduates work in teams to deliver a concept in a similar way to how Imagineers develop their own blue sky ideas. In a matter of weeks, teams have to leverage their various artistic, technical and communication skills to prepare a submission that will appeal to judges whose backgrounds include a wide array of creative and technical disciplines.
A panel of Imagineering judges applies the same criteria to the entries as they would to their own work that includes the team's ability to collaborate across different disciplines and backgrounds; the mastery of their individual skills; whether the project provides an engaging Guest experience; a good understanding of families living in small towns across the country; the ability to tell a compelling and engaging story; and knowledge and passion for the Disney brand and Walt Disney Imagineering. Additionally, the project should be unique in that it is not limited to what Guests already experience with traveling fairs in their towns.
Walt Disney Imagineering
Walt Disney Imagineering is the unique, creative force behind Walt Disney Parks and Resorts that dreams up, designs and builds all Disney theme parks, resorts, attractions, cruise ships, real estate developments, and regional entertainment venues worldwide. Imagineering's unique strength comes from the dynamic global team of creative and technical professionals building on the Disney legacy of storytelling to pioneer new forms of entertainment through technical innovation and creativity.
Contacts:
Mark Witko – Walt Disney Imagineering, (818) 544-2142
Tim Choy, Peter Goldman – Davidson & Choy Publicity, (323) 954-7510
The projects and concepts presented are not necessarily intended to be built by Disney – they are a way for the entrants to demonstrate their skills and creative abilities. In consideration for the opportunities provided by the Imaginations Design Competition, submissions become the sole property of Walt Disney Imagineering and Walt Disney Imagineering retains all rights to use and/or display the submissions and the materials contained in them.