Imaginations Celebrates 25 Years!
2016 will mark the 25th anniversary of the Walt Disney Imagineering Imaginations Design Competition,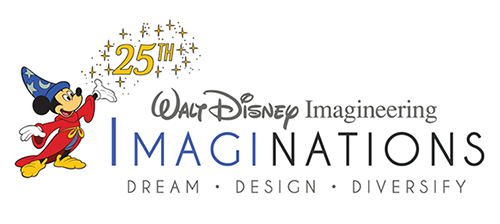 which allows college students in creative and design disciplines to showcase their talents and bring diverse perspectives to WDI.
Created by Disney Legend and former Imagineering executive Marty Sklar, Imaginations seeks to identify and nurture the next generation of Imagineers to create compelling and immersive Disney entertainment experiences. In this contest, teams from across the United States are given a project challenge and must leverage their artistic, technical and communication skills to prepare and present a realistic "blue sky" proposal.
Since the program began, hundreds of participants have had the opportunity to explore Walt Disney Imagineering headquarters in Glendale, Calif., work side by side with Imagineers to refine their presentations, and pitch their projects to a jury of WDI executives. Many have gone on to fulfill their dream of becoming an Imagineer or have found career paths in other parts of Walt Disney Parks and Resorts and The Walt Disney Company.
This program has meant so much to so many people throughout its history, and we are excited to see what the future will bring. Here's to 25 years of Imaginations, and to many more to come.